LOIKAW "Home of the long-neck Padaung ladies" (5Days/4Nights)
Loikaw is the capital of Kayah State in Myanmar. It is located in the Karen Hills area, near the State's northern tip, just above an embayment on the Pilu River. The inhabitants are mostly Kayah. Loikaw is a great place for travelers who are interested in observing hill tribes' cultures and their traditional ways of life, local hospitality and unspoiled natural Shan plateau landscapes.
Coverage: Yangon-Inle Lake-Loikaw-Kalaw-Yangon
Start City: Yangon
End City: Yangon
Duration: 5Days/4Nights
Operational period: All year round
BRIEF ITINERARY
Day 1: Yangon-Inle Lake (by flight) (transfer + boat excursion)
Day 2: Inle Lake-Sagar-Phekon (by boat)-Loikaw (by car)
Day 3: Loikaw & Environs (long neck Padaung/Karen ladies' villages)
Day 4: Loikaw-Pinlong-Myinmahti Cave-Kalaw (by car)
Day 5: Kalaw (half day soft trekking) + Yangon (by flight)
DETAILED ITINERARY
DAY 1: YANGON-INLE LAKE (by flight) (transfer + boat excursion)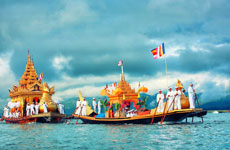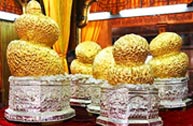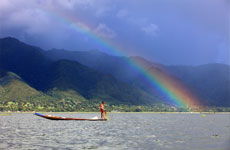 After breakfast at hotel, you are transferred to Yangon airport for a morning flight to Heho on the Shan plateau. On arrival at Heho airport, you are welcomed by our local tour guide and transferred by road to Nyaung Shwe/Inle Lake, then check in at hotel. After refreshment, start the day's tour with a boat excursion on Inle Lake, a delight to all with a camera ,its calm water dotted with floating vegetation on floating Islands and small fishing boats, to which scenic high hills provide the perfect back-drop. See the "Intha" (Lake-dwelling people) also known as the unique "Leg-Rowers" who use one leg to stand on the boat while the other leg is wrapped around an oar and rows. Observe floating Gardens, with vegetables and flowers grown on them, and the lake way of life at 'Kay La Village'. Then, proceed to Ngaphe Chaung Monastery (Jumping cat Monastery).
Afterwards, visit to Phaung Daw Oo Pagoda,the holiest religious site in Southern Shan State which has five small Buddha Statues so heavily gilded with gold that the original Buddha images are unrecognizable.
Complete the day with an extended visit to observe the Lake Inle cottage industry workshops such as silk & lotus fabric weaving with wooden handlooms at "Inn-Paw- Kone"Village, traditional 'mild-cigar –making' (cheroot Factory at "Se' Kaung Village" and traditional silver and gold smiths, paper umbrella –making at 'Ywa-ma' Village. We then back to hotel and overnight at the hotel in Inle Lake.
Accommodation: Hotel in Inle Lake
Meals: Breakfast, Lunch & Dinner
DAY 2: INLE LAKE-SAGAR-PHEKON (by boat)-LOIKAW (by car)
After breakfast at hotel, start on a pleasant boat trip to Sagar village which is a site of over 100 Buddhist stupas rising from the lake and a fantastic view of tranquil lake side village. It is far from about 64 km south of Nyaung Shwe and it will take 3 hrs long. On arrival, visit to Tha Gaung relic pagoda and other ancient religious monuments, then observe a vast array of Shan, Pa O, Intha ethnic traditional ways of living. And then proceed to Sae Haung pottery village and Phekon village, an enchanting town in the southern of Inle Lake. It will take another 3 hrs and totally (approx. 6 hrs) from Nyaung Shwe to Phekon for a boat trip.
From there, drive 1 ½ hrs by car to Loikaw capital city of Kayah state and check in hotel. After refreshment, visit to Taung Kwe Zedi (a cluster of stupa) in the evening and enjoy a spectacular sunset and panoramic view of Loikaw from there. Overnight at the hotel in Loikaw.
Accommodation: Hotel in Loikaw
Meals: Breakfast, Lunch & Dinner
DAY 3: LOIKAW & ENVIRONS (long neck Padaung ladies' villages)
Enjoy your breakfast at hotel, firstly take a visit to Demawso market; still remains as an unspoiled attraction where you can get an opportunity to see the ethnic groups wearing colorful traditional costumes and trading their wares (Note: It is only open on Wednesdays and Saturdays). On the return way, stop at Ngwe Taung Dam which is one of the landmark of Loikaw, Kayah state.
Then, 1 ½ hrs drive to Padaung native village called "Pan-pet". It is an old village, simple and honest only the Padaung races are living. Observe their traditional clothing and long brass rings decoration on their extra ordinary long necks and hands, and also see authentic ways of life of Padaung people in the village. One of their beliefs is that the longer the neck, the more beautiful the person is. Therefore, Padaung women when coming the appropriate age, wear bronze spiral rings around their necks. The older they are, the more rings they have to wear.
Afterwards, extended visit to nearby some more Padaung villages like Sunboon, Htay Thama Dawsawbi Kayah village. After visiting several Padaung/Kayan houses & interacting with these artistic people, return to Loikaw. Overnight at the hotel in Loikaw.
Accommodation: Hotel in Loikaw
Meals: Breakfas, Lunch & Dinner
DAY 4: LOIKAW-PINLAUNG-MYINMAHTI CAVE-KALAW (by car)
After breakfast at hotel, drive to Kalaw (a beautiful sleepy hill station town surrounded by mountains filled with gnarled pines). It will take to you nearly 6 hrs from Loikaw to Kalaw. Along the way you have a chance to visit orange & tea leaf plantation, scenic beauty of Shan plateau landscapes and also interact with local people to know about their simple village life.
Before nearly arrive to Kalaw, visit Myin Ma Hti limestone cave which is 1028 ft long and has many Buddha statues inside. And then proceed to Kalaw, on arrival check-in your hotel and fresh up at your leisure. Overnight at the hotel in Kalaw.
Accommodation: Hotel in Kalaw
Meals: Breakfast, Lunch & Dinner

DAY 5: KALAW (trekking)-HEHO-YANGON (by flight)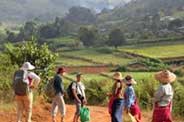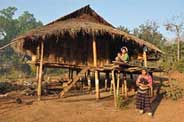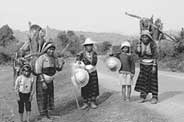 After breakfast at Hotel, drive to the northwest and stop at junction A. From here take footpath to the right. The road and trials goes through beautiful scenery. After approx.1 ½ hrs you will arrive to Pane Hne Pin, a Palaung Tribal Village. They make their living from farming and hunting. They live in long houses, sharing with 4-5 families. From Pane Hne Pin (after lunch) you have to walk another ½ hour to the View Point, where you will enjoy a panoramic view over Kalaw area. Then return to Pane Hne Pin. From there you have to walk for another ½ hour to reach junction B, where the car is waiting for you. From there, proceed to Heho airport to fly to Yangon. Overnight at the hotel in Yangon.
Accommodation : Hotel in Yangon
Meals: Breakfast & Lunch                              
                                                 ***END OF SERVICES***