YANGON-GOLDEN ROCK-BAGO-YANGON (4 DAYS PILGRIMAGE TOUR)
MTFU 11: YANGON-GOLDEN ROCK-BAGO-YANGON
(4 DAYS PILGRIMAGE TOUR)
ThisThis 4 days tour focuses on a pilgrimage to the Golden Rock or Kyaikhtiyo. Starting with Yangon, the former capital of and gateway city to Myanmar with its charming mix of faded British colonial architecture and the unforgettable Shwedagon Pagoda and continuing on to an amazing pagoda atop a boulder hanging on the edge of a cliff- the Golden Rock or Kyaikhtiyo. On the way back to Yangon we visit to Bago; an ancient capital of the Mon Kingdom in 15th
Coverage: YANGON-GOLDEN ROCK-BAGO-YANGON
Start City: Yangon
End City: Yangon
Duration: 4Days/3Nights
Operational period: All year round
BRIEF ITINERARY
Day 1: Arrival Yangon (transfer + sightseeing)
Day 2: Yangon-Golden Rock/Kyaik Htiyo Pagoda (by private fully A/C vehicle)
Day 3: Golden Rock/Kyaik Htiyo Pagoda-Bago-Yangon (by private fully A/C vehicle)
Day 4: Yangon (transfer) + International Departure
DETAILED ITINERARY
DAY 1: ARRIVAL YANGON (transfer + sightseeing)
On arrival at Yangon International airport, you are welcomed by our English speaking tour guide and transferred to hotel. On the way, firstly we visit to;
(1) Kyauktawgyi Pagoda (one of the biggest marble Buddha Images in Myanmar with a height of 37ft/11m and a weight of weighs over 600 tons). You will also see the white alive elephants at this pagoda compound and proceed to hotel. After refreshment, start on a city tour including;
(2) Chauk-htat-kyi Phaya; a huge life-like reclining Buddha statue surrounded by Buddhist monasteries.
(3) Karaweik Hall to marvel at the uniquely decorated "hamsa-bird-shaped" floating barge on Kandawgyi royal lake with a great view of Shwedagon Pagoda.
(4) A visit to the magnificent and world famous Shwedagon Pagoda, known for its religious significance and artistic beauty. The massive bell shaped stupa is plated with gold and the tip of the stupa is set with diamonds and rubies, sapphires and topaz - a stunning sight as the sun sets and an unforgettable place to begin your trip in the "Golden Land". Lunch and dinner at local restaurant and overnight at the hotel in Yangon.
Accommodation: Hotel in Yangon
Meal: Lunch & Dinner
DAY 2: YANGON-GOLDEN ROCK (by private fully A/C vehicle)
After breakfast at hotel, we depart from Yangon to Golden Rock/Kyaik Htiyo by private fully A/C vehicle. It will take nearly 4 ½ hour drive from Yangon (about 160 km).
(1) On the way we stop at the Htauk Kyant township the last resting place of over 6,300 Allied War Graves Cemetery which located just outside Yangon and was built in 1951 (consolidating a number of smaller cemeteries) to remember the sacrifice of 27000 soldiers from the British Commonwealth and its allies. These beautifully kept and peaceful gardens and impressive memorials are a place for quietly remembering and reflecting.
(2) Then, proceed to Golden Rock and it stands on a gold gilded boulder precariously perched on the edge of the hill, which is 1102 meters above the sea-level. Upon arrival to the base-camp, transfer to an exciting truck ride up-hill through a rain forest. Upon arrival to the upper-camp, we trek up-hill for a few minutes to the amazing Golden Rock. Check in Hotel, rest and later, visit the magnificent Golden Rock pagoda environs. Lunch at local restaurant and dinner at the hotel. Overnight at the hotel in Golden Rock.
Accommodation: Hotel at Golden Rock
Meals: Breakfast, Lunch & Dinner
DAY 3: GOLDEN ROCK-BAGO-YANGON (by private fully A/C vehicle)
We wake up early in the morning to enjoy the sun-rise over these misty jungle-clad hills of Southeast Asia. After breakfast, descend to the base-camp and then drive to Bago: an ancient capital of the Mon Kingdom in 15th Century. Bago is situated only 80 km north-east of Yangon.
(1) Upon arrival Bago, we visit the magnificent Shwe Maw Daw Pagoda -said to be over 2,000 years old.
(2) Shwe Thar Lyaung (a huge reclining Buddha); 55 meters long and dating back 994AD.
(3) Afterwards we visit Dhammazedi Pagda and Maha Kalyani Sima which is sacred hall of ordination was originally constructed in 1476 by Myanmar King Dhammazedi, the famous alchemist Myanmar king and son of Myanmar Queen Shinsawpu.
(4) (If time allows) visit to "Kanbawzathardi Palace" the famous palace of King Bayinnaung (1551-1581 A.D.) is being extensively excavated and some buildings are being rebuilt.
(5) In the late afternoon we drive back to Yangon and just outside Bago we visit Kyaik-Pun temple which is four huge seated Buddha images in the open air. Lunch & dinner at local restaurant and overnight at the hotel in Yangon.
Accommodation: Hotel in Yangon
Meals: Breakfast, Lunch & Dinner
DAY 4: YANGON (sightseeing) + INTERNATIONAL DEPARTURE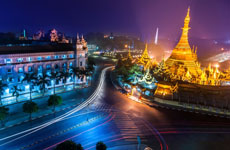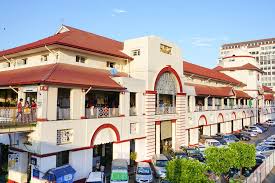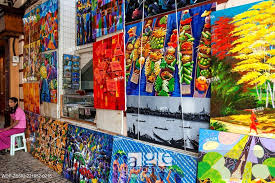 After breakfast at hotel, begin the day tour with;
(1) Explore Downtown Yangon where the British colonial influence is still evident with a visit around Sule Pagoda which is located at the heart of the city and proceed to a range of beautiful colonial style buildings such as the City Hall, the High Court, former Immigration Offices and the Independence Monument in the green Mahabandoola Park. Afterwards, proceed to the Central Post Office at Pansodan Street which is famous for some of Yangon's most impressive colonial buildings and then have a look at busy life of Pansodan Jetty on Yangon River. Take a short tea break at Strand Hotel by own account.
(2) Botahtaung Pagoda, a famous landmark pagoda beside Yangon River, with a walk-in internal a sacred hair relic chamber of Buddha and its wish-granting Bo Bo Gyi and Mya Nan Nwe's Nat Shrine.
(3) The National Museum where you will see the regalia of Myanmar Kings and the Lion Throne of Myanmar returned from the Albert and Victoria Museum in England by Lord Mountbatten of Britain on Myanmar's independence in 1948.
(4) Bogyoke Aung San Market (named after the father of Aung San Suu Kyi and formerly known as the Scott Market) to purchase souvenirs and handicrafts if you wish. There are gems, fabrics, lacquer ware, wood sculptures, paintings etc… the range of wares is fantastic and don't forget to bargain!
(5) Complete the day with an extended visit to China Town, noted for its fruit market, delicious street foods and old world atmosphere.
In the late afternoon you are transferred to Yangon International airport for your return international departure flight.
Accommodation: N/A
Meals: Breakfast & Lunch
                                               ***END OF SERVICES***