MAWLAMYINE-HPAAN TOUR (5Days/4Nights)
(Extension Tour)
Coverage: YANGON-MAWLAMYINE-HPAAN-YANGON
Start City: Yangon
End City: Yangon
Duration: 5Days/4Nights
Operational period: All year round
BRIEF ITINERARY
Day 1: Yangon-Mawlamyine
Day 2: Mawlamyine-Bilu Island/Ogre Island-Mawlamyine
Day 3: Mawlamyine-Kyaikkame-Setse-Thanphyuzayat-Mawlamyine
Day 4: Mawlamyine-Hpaan
Day 5: Hpaan-Yangon
DETAILED ITINERARY
DAY 1: YANGON-MAWLAMYINE (by private A/C car)
After breakfast at hotel, you are welcomed by our tour guide at your hotel and drive to Mawlamyine by private fully air-conditioned car. It will take about 6 ½ hrs (311 km) from Yangon to Mawlamyine.
After driving nearly 4 ½ hrs (239 km) from Yangon, arrive to Thahton township. Thahton is the first great ancient capital of the Mon Empire. We visit Shwezaryan Pagoda; believed to contain four of the Buddha's teeth and Thagyapaya; decorated with various terra-cotta glazed tiles (dating from the 11th and 12th Century) in Thahton.
We then proceed to Mawlamyine, in the heart of the Mon State. It is situated on the Gulf of Mottama at the mouth of the Thanlwin River. Mawlamyine is also called "Moulmein" which was used to be a port city for teak export in British colonial time. George Orwell was stationed here during the 1920's. It is the third largest city of the country and the largest city of Mon State and still retains its quiet charm being surrounded by sleepy fishing villages.
Upon arrival, check in at hotel and after refreshment you explore the town including and be amazed with remnant first Baptist Church or Judson's Church and beautiful colonial style buildings still well-maintained in this tranquil city. You may wish to take a leisurely walk along the famous Strand Road in cool breeze and enjoy overlooking view of the mighty Than Lwin River and smells of Mawlamyine's buzzing night market. Overnight at the hotel in Mawlamyine.
Accommodation: Hotel in Mawlamyine
Meal: Breakfast, Lunch & Dinner
DAY 2: MAWLAMYINE-BILU ISLAND/OGRE ISLAND-MAWLAMYINE
Enjoy your breakfast at hotel you start the tour with the early morning seafood market and then board a small local ferry boat for the short journey to nearby Bilu Island which means "Ogre Island" located just opposite to the city of Mawlamyine. You enjoy the beauty of nature and fabulous views of the countryside at there. You visit the villages around the island which is rich in chemical resources and known for traditional handmade products such as walking sticks, tobacco pipes, slate and rubber bands. On the way you make a brief stop at a village monastery and a local school. Upon return to Mawlamyine, visit "Pha Auk Taw Ya" monastery, one of the largest meditation center in our country.
In the afternoon, visit the famous Mahamuni Paya; the largest temple complex in the city built in the 'Mon Style', Yadana Bon Myint Monastery (or) Queen Sein Don Monastery; a 100-year old wooden structure (the original residence of King Mindon's queen). Complete the day with an extended visit to the View Point Pagoda and Rudyard Kipling's Poem "On the road to Mandalay" immortalizes the Kyaikthanlan Pagoda and finally a spectacular sunset at U khan Ti pagoda Hill. Overnight at the hotel in Mawlamyine.
Accommodation: Hotel in Mawlamyine
Meal: Breakfast, Lunch & Dinner
DAY 3: MAWLAMYINE-KYAIKKAMI-SETSE BEACH-THANBYUZAYAT-MAWLAMYINE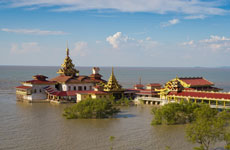 After breakfast at hotel, you start the day tour with a visit to Mawlamyine central market "Zaygyi" which is the morning market where a vast array of produce and goods is being bought and sold. Then proceed to the metal-roofed Kyaikkhami Yale Pagoda perched over the sea, joining the complex and the land by a long causeway. (If time permits) Extend your visit to the very wide Setsè Beach with brown sand.
Continue on to Thanbyuzayat, the western start of the Burma-Siam railway built during the Japanese occupation in World War II. It is 34km far from Mawlamyine. Allied War Memorial Cemetery commemorates the prisoners of war who lost their lives in constructing the famous "Death Railway across the River Kwai". The cemetery here is a moving memorial to 3770 Commonwealth and Dutch troops who gave their lives during its construction. The nearby death railway museum is opened on 4th January 2016 (Today). You will also see a Japanese steam train from the time and a plaque announcing the start of the line which continued into Thailand.
On the return way to Mawlamyine make a brief stop at "Win Sein Taw Ya" monastery on the main road to Mudon. It is the world largest reclining Buddha image, 180 m long. Reclining Buddha image has the museum inside displaying the teaching of Buddha as well as a shrine room for worship. Drive back to Mawlamyine. Overnight at the hotel in Mawlamyine.
Accommodation: Hotel in Mawlamyine
Meal: Breakfast, Lunch & Dinner
DAY 4: MAWLAMYINE-HPA AN
Enjoy your breakfast at hotel, depart from Mawlamyine to Hpa-An. It will take to approximately 1 ½ hrs (60 km). Hpa An is known as for its famous caves and the most stunning scenery in our country. Along the way you enjoy a scenic drive heading for the less explored Kayin State and its sleepy capital of Hpa An which is surrounded by limestone cliffs, wide lakes and mountain ranges. Hpa An is also the capital of Kayin State.
Upon arrival at Hpa-An, stop at the Buddha-filled cave of Kha Yon and visit to Lumbini Garden with thousands of Buddha images at the base of Mt. Zwekabin. And then proceed to the Kyauk Ka Lat Pagoda which is built on layers of natural rock formations. A brief photo-stop at here and you can watch the breathtaking view of the beautiful scenery.
Afterwards visit to Kawgone Cave; eight miles south of Hpa-An, the hidden gallery of 7th Century artwork within the cave. Thousands of Buddha images and carvings line the walls and roof of the cavern. The pagoda was first recorded in 1893 in an Archaeological survey of India Report. One headless carving of an elegant torso is believed to represent a queen who donated some images to the cave pagoda.
Complete the day with an extended visit to the Saddan Cave. Walk for around 30 minutes through this huge cave (Note: you don't forget to take your shoes or slippers along with you into the cave). Boarding a small wooden boat, a local oarsman will guide you through lush rice paddies back to your starting point; the whole experience is quite surreal. Then, back to hotel and overnight at hotel in Hpa-An.
Accommodation: Hotel in Hpa-An
Meals: Breakfast, Lunch & Dinner
DAY 5: HPA AN-BAYINT NYI CAVE-YANGON
After breakfast at hotel we depart from Hpa-An and drive back to Yangon.
On the way back to Yangon, make a stop at Bayint Nyi Cave (situated just outside Hpa An) with beautiful wall carvings and numerous intricate Buddha images sculpted in all sizes. It is just about 30 minutes drive outside the Hpa-an. Bayin Nyi Cave is also famous for its natural hot springs. Though the cave itself is not very much big, it houses many interesting Buddha statues. And then drive to Yangon.
If time permit you'll visit the Htauk Kyant Allied War Cemetery which is located just outside Yangon and was built in 1951 (consolidating a number of smaller cemeteries) to remember the sacrifice of 27000 soldiers from the British Commonwealth and its allies. These beautifully kept and peaceful gardens and impressive memorials are a place for quietly remembering and reflecting. Proceed to your hotel in Yangon and overnight at there.
Accommodation: NIL
Meals: Breakfast, Lunch & Dinner
***END OF SERVICES***