NAGA NEW YEAR FESTIVAL (5Days/4Nights)
Numerous Naga tribes spread throughout the north-western hills of Myanmar. Most of the Naga are from the Chin State. But the festival place falls in the Sagaing division. The places where the Naga inhabit are Khamti, Lashe, Lahe, and Nanyun in the Sagaing Division. There are 64 clans of the Naga tribe. The Naga festival is social, but it is also to exchange previous year experiences, to make plans for the coming year and to discuss how to overcome difficulties. They pray for abundant crops and domestic animals and to have good weather. Another aspect of this festival is reunion of relatives, who are away from home. They worship to their deities by scarifying the animals. The festival is usually in January, for this year it will be held in LAHE town ship on the 15th of January, 2016.
Coverage: Yangon-Mandalay-Hkamti-Sinthe-Lahe-Yangon
Start City: Yangon
End City: Yangon
Duration: 5Days/4Nights
Operational Period: Annually in JANUARY
BRIEF ITINERARY
Day 1: Yangon-Mandalay-Hkamti (flight)-Sinthe (shuttle boat)-Lahe (vehicle)
Day 2: Lahe & Environs (full day excursion)
Day 3: Ceremony of erecting the pennant pole
Day 4: Opening Ceremony of Naga New Year Festival & Bonfire
Day 5: Lahe-Sinthe (vehicle)-Hkamti (shuttle boat)-Mandalay-Yangon (flight)
DEATILED ITINERARY
DAY 1: YANGON-MANDALAY-HKAMTI (flight)-SINTHEI VILLAGE (shuttle boat)-LAHE (vehicle)
Early in the morning you are transferred to Yangon international airport for the morning flight to Hkamti via Mandalay. On arrival at Khamti, a welcoming committee waits for you at the airport and conduct to the jetty. Cross the Chindwin River which is one of the major tributaries of the mighty Ayeyarwaddy River to the Sinthe village by a shuttle boat. Enjoy lunch and refreshment at the Sinthe village, we then proceed to Lahe by light air truck. On arrival at Lahe township and check-in to your accommodation built of local materials. Dinner and rest for the night.
Accommodation: Lahe Township
Meals: Lunch & Dinner
DAY 2: LAHE TOWNSHIP (Environs excursion)
Optional trekking and visit to nearby villages to observe the Naga people in their daily lives. Lunch boxes will be provided at the reception and information counter. After excursion Lahe and environs, get back to your accommodation and have a dinner at Lahe. Overnight at the Traditional House in Lahe township.
Accommodation: Lahe Township
Meals: Breakfast, Lunch & Dinner
DAY 3: CEREMONY OF ERECTING THE NAGA PENNANT POLE
Soon after breakfast, the traditional Naga Ceremonial Pennant Pole will be erected at the festival ground and various Naga clans in their traditional costumes will be there to participate with the festival. After lunch break, you explore the surrounding villages and the town of Lahe on your own plan (or) enjoy traditional sport events and some fun stuff (or) enjoy your leisure as you like. Dinner and rest for the night at Lahe.
Accommodation: Lahe Township
Meals: Breakfast, Lunch & Dinner
DAY 4: OPENING CEREMONY OF NAGA NEW YEAR FESTIVAL & BONFIRE
The official opening ceremony of Naga New Year begins on the festival grounds early morning. Enjoy the traditional New Year foods and rice wine with the Naga community elders. At the end of ceremony, dance competitions by the troupes from various Naga villages and sport events will start. Finally in the evening, by a large bonfire, everyone can participate and enjoy in welcoming the Naga New Year by dancing around the bonfire.
Accommodation: Lahe Township
Meals: Breakfast, Lunch & Dinner
DAY 5: LAHE-SINTHE (vehicle)-KHAMTI (shuttle boat)-MANDALAY-YANGON (flight)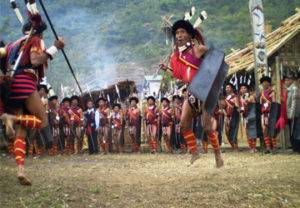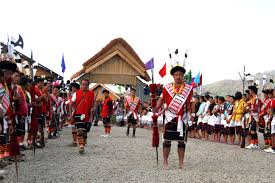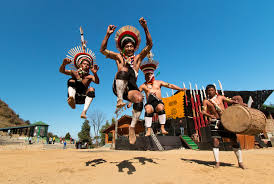 After early breakfast, leave the Naga festival grounds at 05:00AM and begin your journey back to Sinthe by car and upon arrival at Sinthe jetty take a shuttle boat to go Hkamti. Lunch boxes will be provided at Khamti airport and after lunch, wait for a departure flight to either Mandalay (OR) Yangon. Our company's driver will meet you at the Yangon international airport and transfer to your hotel. Overnight at the hotel in Yangon.
Accommodation: N/A
Meals: Breakfast & Lunch
                                    ***END OF SERVICES***